IT'S TIME TO GET PERSONAL
ABOUT YOUR DIET AND WEIGHT LOSS PLAN
It's not about willpower. It's about designing a diet and fitness plan that works because it's personalized for your body. If you're ready for a different approach, let's chat.
Are You Tired Of Struggling…
…to lose weight and feel better despite doing all the right things? If you're constantly derailed by cravings, digestive issues, and exhaustion, maybe it's because the things that are right for others, aren't right for you.
Everyone deserves to feel good in their body and have the energy to crush each day. The thing is, everyone's path to wellness is different.
If you're tired of trying the latest diets and workouts without success, let's work together and find what works for you.
As an integrative nutritionist and certified fitness coach who specializes in weight management, I help women adopt a diet and fitness plan that:
Lets them eat healthier in a way that's satisfying and sustainable
Relieves digestive issues like reflux, bloating, constipation, or diarrhea
Reduces inflammation and chronic disease risk
Boosts your mood and energy
Helps you say goodbye to those extra pounds — for good
TO BETTER HEALTH AND WEIGHT LOSS
THE COOKING LAB ONLINE COURSES
BODY REVIVE GROUP PROGRAM
An engaging learning experience to meet your personal health goals with food!
Cooking shouldn't be complicated, and learning to cook healthy shouldn't be intimidating! Reduce your stress in the kitchen by making simple, delicious meals while meeting your personal health goals – no one size fits all here.
A 28-Day Online Group Program
Support and nourish your body with this online 28-day digestive detox solution. You'll boost your energy, eliminate bloat & digestive issues, jumpstart your weight loss and feel revived in less than a month.
1:1 Coaching For Weight Loss and Digestive Health
Your diet should be as unique as you! Learn how to personalize your diet and gain the skills you need to look and feel great everyday. The coaching program includes customizable menu plans to help meet your goals and one-on-one support.
Educational & Life Changing!
Goal Achieved: lost 13lbs in 28 days
"The benefits were excellent. Even though we are done, we're sticking to 90% of it as the benefits are great. And honestly, it's not a problem to eat healthy even when traveling for work. This has been very educational and also life changing for me. Thank you Sadie!"
Best I've Felt In Years!
Goal Achieved: Lost 10lbs and decreased symptom score by 14 points
Not only did the Body Revive program help me lose the 10lbs I've been wanting to get rid of for as long as I can remember, but this program has helped me feel the best I've felt in years!!! I have energy, a more focused mind, and my digestion is SO MUCH better!
I'm a registered dietitian and certified personal trainer specializing in gut health and weight loss. My passion is helping successful, hard-working women prioritize their own health goals and achieve weight loss freedom forever.
I use a functional, integrative, and client-centered approach to help you personalize your diet, and bust through your food and fitness barriers. My programs will teach you how to get your body back, leave the dieting (and guilt) behind, and take care of YOU.
Let me show you how to finally get the results you've been looking for – what's worked for me, and the thousands of women who've gone through my programs – without deprivation. Together, we can make this simple and doable for you.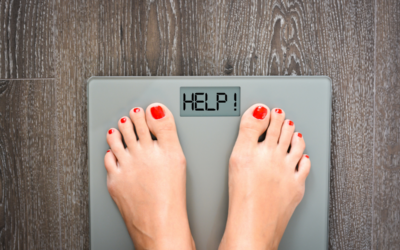 Working out more and more, yet hitting a weight loss plateau can feel downright discouraging. A plateau is a common roadblock for those attempting to lose weight, but a pause in progress doesn't mean it's time to throw in the (gym) towel. Lifestyle changes such as...
Ready to personalize your diet and achieve weight loss freedom? Let's see if we're a good fit to work together, and which of my programs is best for you.